Sustainability
We care about our nature
We, the Warther Hof, situated in the small mountain village Warth, surrounded by lush meadows and breathtaking mountains keep asking the question, how to protect the environment with energy ressources and how to make sustainable vacation possible for you. 

It is our concern to make a valuable contribution to the protection of our environment, because we care about our nature. 


Our Cogeneration Plant
With the construction of the cogeneration plant in 2013 only 2.500 srm chopped would is consumed eachyear.
This means: until then the annual consumption of heating oil was at about 180.000 litres per year. This is about 622,98t CO2 emission each year!

This way we can minimize the CO2 emission enourmosly and protect our beautiful nature, in order to experience it with all senses. 
The hotel's head Markus Roiderer is happy to show our guests the impressive cogeneration plant enthusiastically, where you can be astonished by the amount of chopped wood that fits into our depot.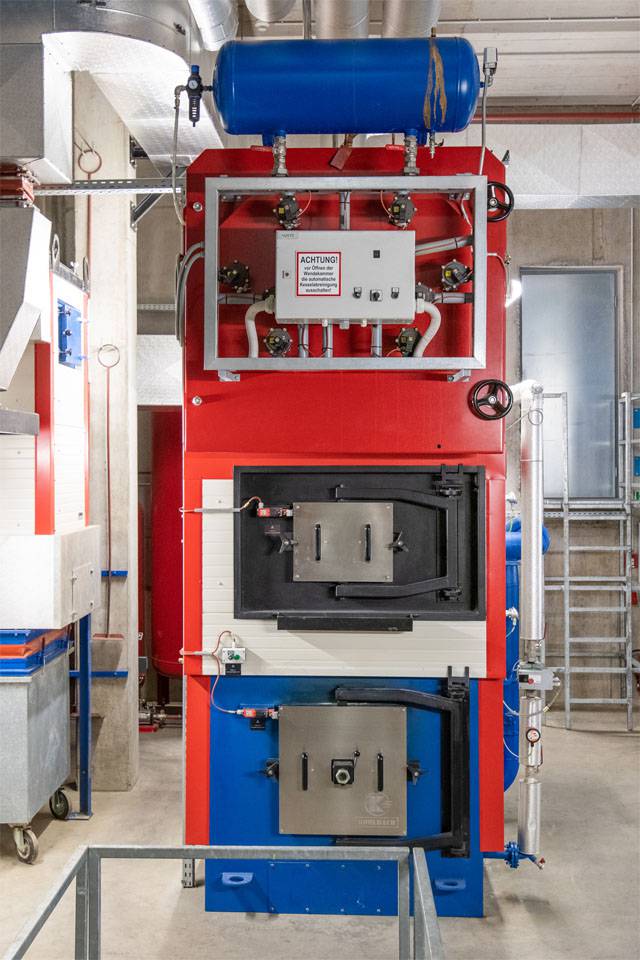 Rooms and 
Facilities
We spend one third of our lives sleeping. Only the one who has a peaceful and regenerative sleep can enjoy the awake state of life.

Taking nature and its energy source as a guiding example - under this motto we have created extraordinary living spaces for you, because freedom provides us with an especially pleasant sense of well-being. We brought mountain nature into our hotel. We want to protect actively what makes your stay in Warth so special - our intact nature. This is why we made it our mission to use energy ressources of the environment sustainably. We took the positive, natural characteristics of materials from the surrounding into our hotel to offer you a living space with one goal in mind: Natural Well-Being.

All of our nature-energy rooms are equipped with the Wolena sleep-balance system. Wolena is a natural sleep system which is built completely out of nature and which preserves natural, positive effects for healthy sleeping for a long time. Blankets, mattress toppers and pillows made of lamb's wool and hemp fibres (from inspected organic agriculture or inspected organic cultivation) and have a calming and temperature compensating effect due to the special combination of materials - for an extraordinarily comfortable bed and sleeping clima. Mattresses of natural rubber complement the function of the slat frame by ideally supporting the spine softly.
The heart of our nature-energy rooms is its Freya bed. The Freya bed is built with highest care. The production uses only energetically pure wood (moond wood). Only wood connections and turned wood thread bars with wood nuts from in-house production go into action. By doing so, the beds do not rely on chemically produced connections with binders - a blessing for the body. Eight "Arlberg rooms" are equipped with the Samina sleeping system. This system fulfills all orthopaedic aspects and uses only natural minerals. Essential regeneration of body and soul during sleep can be achieved on an entirely natural way. 
All rooms of the house are lit by energy-saving lamps and have a motion detector so that light is only on if needed. Exhaust air from most of the public places (restaurant, beauty, hallways etc.) is reused by the heating pump in order to heat groundwater. The same way service water is heated by the integrated production plant (cooling units).
more about healthy sleeping

The double & family rooms "Nature Energy" as well as the Suite "Nature Energy" bring energy and nature of the mountain world into your room. Feel the difference!
Our kitchen

The Warther Hof kitchen team mainly relies on regional products, no matter if cheese from our own mountain alp, dairy products from local farmers or meat from the surrounding area. Short transportation ways mean less CO2 emissions. Our kitchen chef Franz Ehritz attaches great importance to less packaging, i.e. our purchasing is based on big amounts. Vegetables and fruits are delivered directly from our greengrocer. The entire kitchen is equipped with induction devices, so that if required we only need little energy supply.