For your winter holiday at Arlberg Mountain
The best snow conditions into spring
Live the winter dream at Arlberg Mountain. Sparkling snow crystals. Crystal-clear winter air. Unbridled joie de vivre. With us in the mountain village Warth, you will enjoy your winter vacation in one of the snowiest regions of Europe. Directly opposite our hotel you enter the modern ski area Warth-Schröcken, which is part of the 5-star ski resort Ski Arlberg, the largest contiguous ski area in Austria.
Snow angels well into spring ... With us in Warth you have the best snow conditions until April. Skiing, snowboarding, cross-country skiing, winter & snowshoe hiking, ice climbing, tobogganing, husky tours, horse-drawn sleigh rides – Arlberg Mountain is home to the refined winter happiness.

Interactive winter map
Warther Winter World:
Ski area Ski Arlberg
88 modern lifts & gondolas
305 km slopes
One of the most modern snow systems in the Alps
Beautiful deep-snow slopes at Arlberg for freeriding
20 km winter hiking trails
Idyllic snow shoe hikes
Sled runs
Husky tours
Ice climbing at icefalls up to 300 m high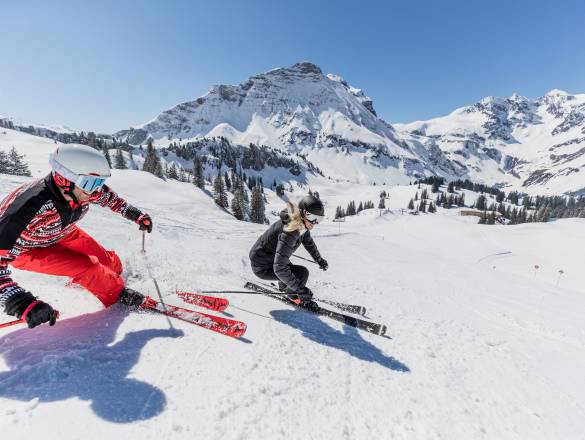 For your winter holiday in the Wellnesshotel Warther Hof
Ski lift directly opposite the hotel
Ski depot and ski service in the hotel 
Ski school and children's ski school at the hotel
Guided winter hikes and snowshoe tours 
Snowshoes, poles and sleds on loan in the hotel
6x/week supervised sport program
Live music 2-3x/week
Heated indoor & outdoor pool with mountain view
3,000 m² spa area
Guest laundry room to wash and dry laundry
Weekly program (in German)
An authentic winter holiday!
Tracks in the powder snow. Natural beauty in a winter dress. Delightful culinary highlights. Indescribable comfot. Experience the winter around our 4-star Superior Wellnesshotel Warther Hof - at an altitude of 1,500 m in Vorarlberg.
Winter offers in
the Warther Hof

Winter at Arlberg Mountain is a delightful experience.
Themes for your 
winter holiday in Vorarlberg
A winter holiday in the 
mountain village Warth
Sledding in the winter paradise Warth
Start with the greatest winter fun at the toboggan run. Race over the snow. Sled down the mountain, radiant with joy.  
4 toboggan runs are available for your winter pleasure:
Toboggan run  "Von der Höhi" in Warth: 700 meters long, daily groomed. Tobogganing is possible on the illuminated toboggan run until 10:00 pm. Free of charge. 
2x a week you can be pulled up with the tractor for special toboggan runs, special toboggans are provided for this. The tobogganing event with mulled wine and children's punch starts at 7:00 pm, adults € 8 and children € 5
New toboggan run at the Warth village lift: Here you go up by gondola and then down by toboggan to the village. Daily until mid-April from 9:00-4:15, single ride adults € 4 and for children € 3 (free with ski pass)
Schröckbach Toboggan run: In the neighboring village
Schröcken Toboggan: Wednesdays from 5:15-7:30. Sledding where usually only skiers go. 2-km-long route from Nesslegg to Schröcken-Heimboden. Take the toboggan bus back to the start.  1x sledding incl. sled rental and bus ride € 4
Toboggans: You can borrow sleds at the hotel 
Husky tour: Pulled by four paws

It is a snow pleasure of a very special kind to glide in a team with two huskies over the glittering white during the winter holidays in Austria, to enjoy the magnificent mountain landscape on a sleigh and to discover our hotel in Warth-Schröcken nestled between Arlberg, Lechtal and Bregenzerwald.
 It is definitely worth it to take off your skis for a few hours. Whether big or small - everyone has the chance to spend an exciting day with the sled dogs during a winter holiday Vorarlberg.
There is a children's husky tour once a week.
The Husky tours can be booked at any time in our Skihotel am Arlberg.
Information and registration
Marc van Landeghem
Hopfreben 140
6886 Schoppernau
Phone: +43 664 2407422
www.huskytouren.at

Romantic sleigh rides
Warmly wrapped up in a horse-drawn sleigh, the ride follows the rhythm of the trotting horses through the winterly idyll in Elbigenalp am Arlberg, only 24 km away from the Wellnesshotel Warther Hof. Pleasure rides with you when coachman Florian leads the horses through the Lechtal Tirol Nature Park.
Romantic moonlight rides with the horse-drawn sleigh are also possible in winter. Ask us in our hotel, you are welcome to reserve the horse-drawn sleigh rides for you.
Or contact Birgit Jäger directly, phone: +43-5634 6242
Ice climbing in Vorarlberg
When water solidifies into ice, bizarre shapes form. In Warth and the region you can overcome them by ice climbing. A lot of muscle power is required when you climb meter by meter at the icefalls with ice axes, ice screws and crampons.
The icefalls in the gorges can be up to 300 m high.
The Widderstein Alpine School in Warth offers taster ice climbing tours.
S´Finale Umbrella Bar: Après-Ski in Warth
Here in the mountain village of Warth, a winter holiday day and a day of skiing ends at the "S'Finale" umbrella bar at the Wellnesshotel Warther Hof. Skiers, snowers and winter hikers vome together here after an active day in the wonderful winter landscape.
Enjoy the relaxed atmosphere at 1,500 m and celebrate your winter holidays at Arlberg Mountains with good music.
Open daily from 2:00 pm, starting in December.
Happy Hour from 4:30-5:30 pm!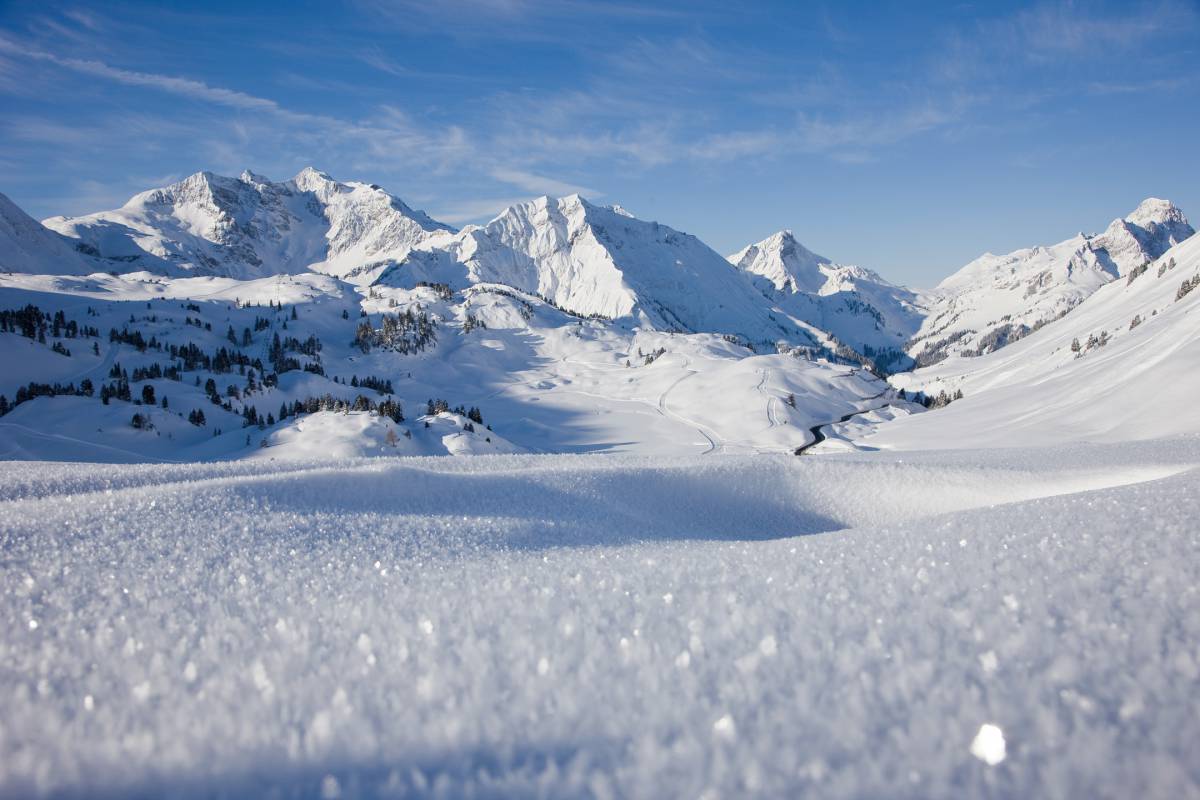 St. Nicholas Celebration in the Hotel
Hohoho – Santa Claus is coming to the Wellnesshotel Warther Hof. And we celebrate that with our guests. At the St. Nicholas event it smells of mulled wine or punch as well as freshly prepared raclette breads. And big and small guests can look forward to a present from St. Nicholas. 
Book your holiday at Arlberg Mountain around December 6th – we have a special offer for this event. 


Winter Events at Arlberg Mountain
Ski opening in Warth-Schröcken with live bands
Christmas market in the village square of Warth on two evenings in December
2-3 weekly dance and music here in the Wellnesshotel Warther Hof

Freeride & safety events
New Year's Concert by the Musikverein Schröcken in December
Fassdauben Gaudi Race: on Rose Monday in Schröcken
Traditional "Spark burning" at the church in Schröcken in February
Tannberglauf: Ski touring race in Warth for the Vorarlberger Skitourencup; in March
"Funkenabbrennen", spark burning at the church in Schröcken in February
Have you already booked your winter holiday at Arlberg Mountain?