Healthy sleeping at your Arlberg vacation
Wolena Sleeping System
All our Nature-Energy rooms are equipped with the Wolena Sleep Balance-System. Wolena is a natural sleep system which is built completely out of nature and which preserves natural, positive effects for healthy sleeping for a long time. Blankets, mattress toppers and pillows made of lamb's wool and hemp fibres (from inspected organic agriculture or inspected organic cultivation) and have a calming and temperature compensating effect due to the special combination of materials - for an extraordinarily comfortable bed and sleeping clima. Mattresses of natural rubber complement the function of the slat frame by ideally supporting the spine softly.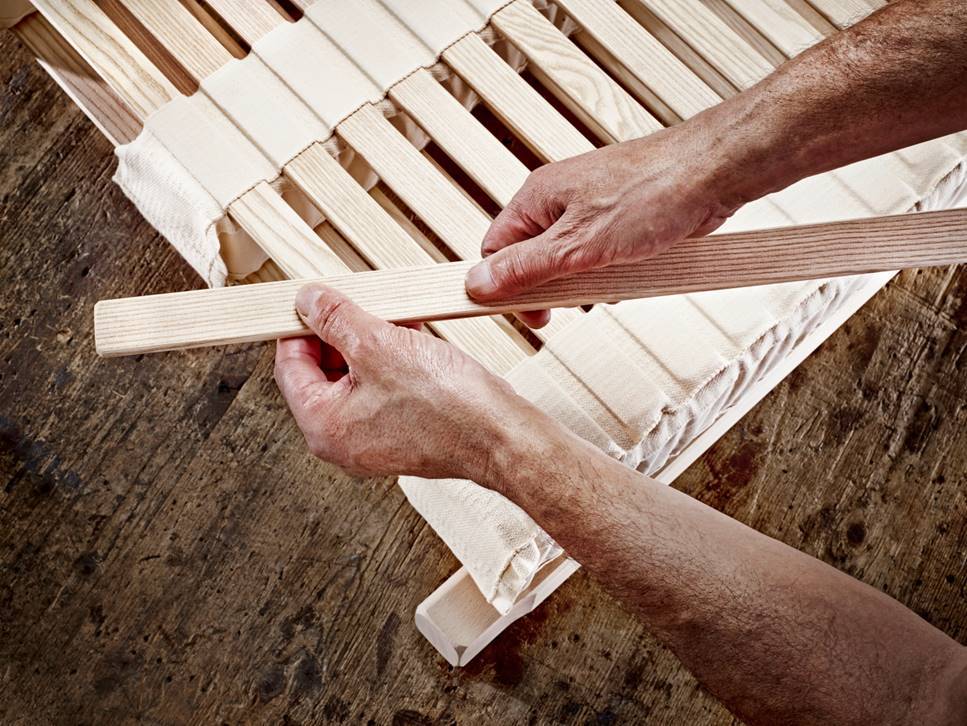 The difference to a conventional bed is very simple and yet figured out down to the smallest details: The uniqueness of humans has inspired us to develop a sleep balance system that is individually adapted to each individual person. The properties of the untreated Wolena ash wood lammellae, in addition to optimal air circulation, are characterized by the fact that they guarantee maximum clamping force and twisting. The three section sleep balance slat frame with head and shoulder balance element, lumber and pelvic balance element, leg vein and foot balance element orthopedically bring us back into shape overnight!
Our mattresses, which are characterized by high point elasticity and natural purity, ensure an optimal feeling of float. The high elasticity of natural rubber adapts perfectly to the natural movements of your sleep. The spine is carried and gently supported. The wolena sheep wool cushion, as well as the washable organic cotton cushion cover and the washable organic cotton molten layer, come from certified organic farming. Our mattress covers and blankets are made of wool hemp and have a cooling or warming function, a calming effect and create an optimal sleeping climate. Discover a new form of sleeping on vacation. You will be amazed at how quickly you are relaxed and recovered!
When short vacations at night make your vacation even better ...
... then it is because you are sleeping on a three section-Wolena Sleep Balance slat frame and a highly elastic natural rubber mattress - especially developed for hotels - to be able to guarantee you the most extraordinary sleeping comfort during your most valuable timer, vacation time. 

We spend one third of our lives sleeping. Only the ones with peaceful and regenerative sleep can enjoy the awake state of life.
Freya bed: Heart of
our Nature Energy rooms
The Freya bed is manufactured with the utmost care. The production uses only energetically pure wood (moond wood). Only wood connections and turned wood thread bars with wood nuts from in-house production go into action. By doing so, the beds do not rely on chemically produced connections with binders - a blessing for the body.

AROLLA PINE, SYCAMORE, CORE ASH, SILVER FIR & SPRUCE: these wonderful woods reduce the grounding of humans to a minimum due to theri vibration frequency and are therefore predestined for sleeping furniture. 
all 5 words function:
positively for your cardiovascular system
positively for skin and respiratory diseases
antispeptically due to its resin content
efficiently against mites and moths
soothing due to the fragrant scent, especially the pine
We guarantee a metal- and adhesive-free processing without building material loads, a gentle handling of the woods regarding to cutting, drying and storage.
"We are building a piece of furniture which leads to 
highest well-being for body and soul." 
BERNHARD ERATH, CARPENTER
samina sleep system
power sleeping rooms
The SAMINA sleeping system developed under the guidance of sleep expert Günther W. Amann-Jennson form the basis for the unique bioenergetic sleep in the SAMINA POWER SLEEPING ROOMSof our hotel. The innovation from SAMINA takes into account all orthopaedic, material-related, residential biological and bioenergetic requirements for the highest possible quality of sleep and regeneration of body, soul and mind. 

Heart of the SAMINA POWER SLEEPING ROOMS are the holistic SAMINA sleeping systems. The raw materials used in the production are without exception natural, untreated and of excellent quality: solid, highly elastic ash wood for the lamellae of the free-swinging lamella rod; 100% natural rubber with high point elasticity for the mattresses; pure, breathable cotton as well as 100% organic, pollutant-free wool for toppers, blankets and cushions. The natural materials used in the SAMINA sleeping systems have a positive effect on rest and sleep quality. This has been shown to lead to improved sleep, as well as better regeneration of body, soul and mind.

Uniqe items from manual labor. 
One SAMINA sleeping systems contains many hours of preparation and careful handword. As consciously the natural raw materials used are chosen, as consciously they are processed in the proven craftsmanship tradition at the SAMINA company headquarters in Frastanz (Vorarlberg/Austria). Because the most valuable raw materials are useless if unhealthy auxiliary materials are used in their further processing or if natural active substances are destroyed by machine production. This makes every SAMINA sleep-healthy product a unique one of outstanding quality. 



Sleep health from head to toe.
Anatomically-orthopaedic correct resting.
Optimal support of the spine
Selected natural meterials handcrafted 
Dry-warm bed climate thanks to pure virgin sheep's wool
The harmonious and natural interplay of the individual sleep system elements guarantees maximum sleeping comfort: The patented design of the free-swinging, double-sided SAMINA lamella frame provides optimal support for the lumbar spine and, at the same time, necessary relief for the intervertebral discs and muscles. It compensates for every movement of the body almost without delay and promote sleep depth and quality. The high-quality mattress made of 100% natural rubber further enhances the effect of the lamella frame and is characterized by an optimal springback behavior. The natural, breathable cotton, as well as the 100% organic virgin sheep wool of toppers, blankets and pillows create a unique dry-warm bed climate on holiday at the Arlberg mountain. 
Sleep earthed with the Lokosana® topper.
Another innovation at Warther Hof is the additional equipment of the SAMINA sleeping systems with special grounding toppers. In the meantime, humans have more or less lost contact with the Earth because we live, work and sleep in isolation from our nature. Sleeping earthed provides the necessary balance and is like running 7-8 hours barefoot. This results in meassurable sleep improvement and better regeneration of body, soul and mind. In addition, the body is relieved by biologically important magnetic fields during sleep and charged with life energy. This also protects the organism of the SAMINA sleeping systems from harmful electrosmog influences.
If you wish, we can make your reservation for a room 
with the SAMINA sleeping system in our double rooms "Arlberg"

Non-binding request