Hotel Warther Hof
Location & directions
Address 
Roiderer & Jäger Families
Bregenzerwaldstr. 53
6767 Warth am Arlberg
T +43-5583 3504
F +43-5583 4200
E hotel@wartherhof.at
ATTENTION: Route L198 between Lech and Warth will be closed until the end of winter because of avalanche danger.
Please plan your journey via Bregenzerwaldstraße/Schoppernau or Reutte/Lechtal.
Arrival by car
From Switzerland: St. Gallen – Exit at Au/Lustenau – Dornbirn – Bezau - Schoppernau – Schröcken – Warth
From Italy and Austria: Innsbruck Autobahn in the direction of Mötz – Fernpass Reutte – Elbigenalp – Steeg – Warth
From Germany: Ulm – Kempten – Lindau Bregenz – Dornbirn Nord / Schwarzach – Schoppernau – Schröcken – Warth or Kempten – Füssen – Reutte – Elbigenalp – Steeg – Warth
Navigation: If you are arriving from Germany or Switzerland, please enter Bezau as a transit stop in your navigation system.
Please note when arriving during the winter season: the route Lech - Warth is closed in winter.
Arrival by train
To Langen (only possible in summer)
Reutte or Dornbirn/Bregenz - continue your trip with the bus or the hotel taxi
From the airport
CH Zürich (direct train connection to St. Margrethen or Bregenz)
D Munich
D Friedrichshafen
D Memmingen
A Innsbruck
Special taxi rates for our house guests 
Dornbirn or Reutte (EUR 190,00)
Bregenz (EUR 190,00)
St. Margerethen (EUR 230,00)
Zürich (EUR 450,00)
Friedrichshafen (EUR 310,00)
Memmingen (EUR 370,00)
Innsbruck (Winter/Fernpass EUR 390,00)
München (EUR 530,00)
Langen am Arlberg (Sommer EUR 48,00)
Waiting time/hour (EUR 40,00)
Children's seat upon request
Max. 8 people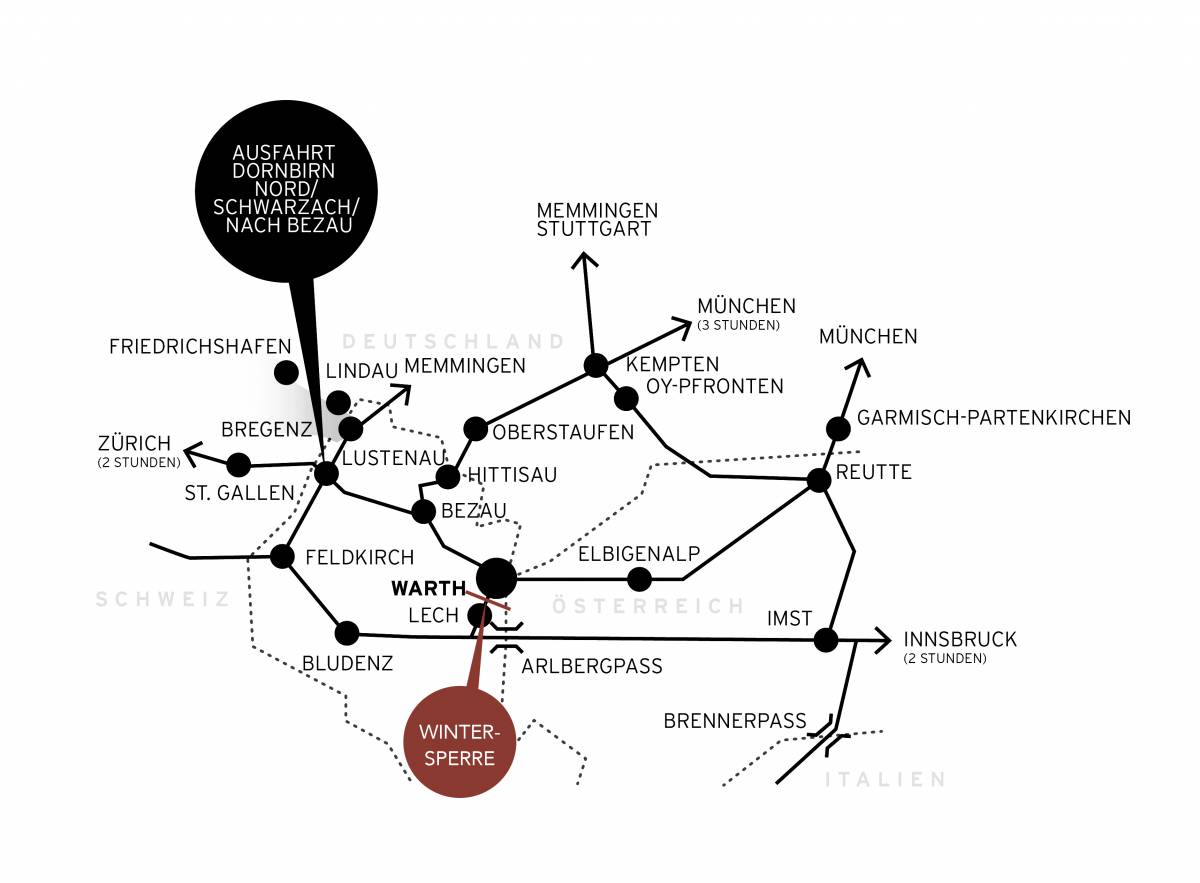 The Warther Hof is located at the highest point of the Arlberg Mountain, close to the source of the Lech River, and surrounded by the mountains.