Ski tours in Warth at Arlberg mountain
Building up fitness at dreamy ski tours in Vorarlberg
Push the touring ski step by step through the snow. Climbing skins on touring skis stop the ascent. Climb the mountain with your own strength and then ski down in untracked deep snow - a holistic experience for body and mind.

Ski touring is a joint-gentle and cardiovascular-promoting sport that offers a unique nature experience on the Arlberg mountain.

Ski touring equipment can be rented from sports shops in Warth-Schröcken. Please always note the weather and avalanche danger and always take the avalanche emergency equipment with you on the ski tour. We recommend booking guided ski tours with experienced ski tourers from our alpine schools.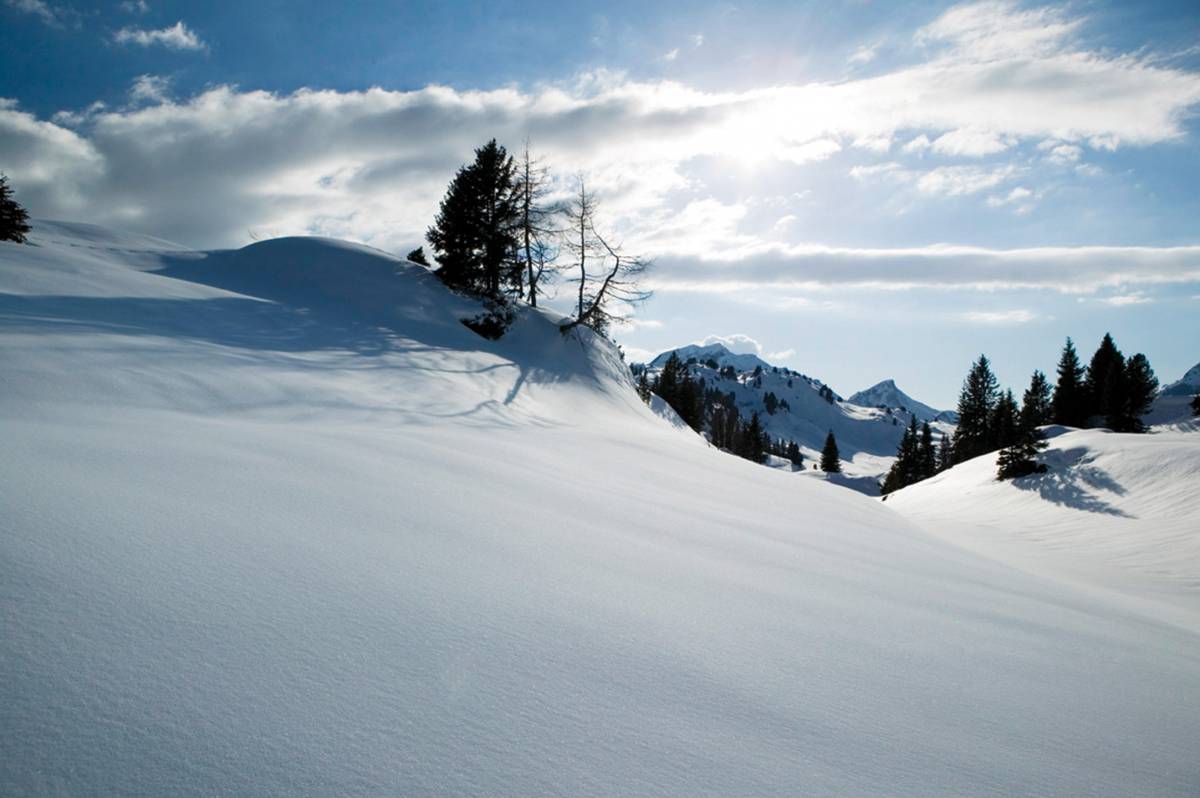 With touring skis through untouched nature.
Tips for Ski tours
at Arlberg mountain
Warth-Schröcken is one of the snowiest areas in Austria and an insider tip for ski tours on the Arlberg mountain. Numerous fantastic ski tours from beginner to demanding professional tours can be undertaken around Warth-Schröcken. Practitioners can discover the slopes of the Karhorn and the Mohnenfluh mountain in a special way on a guided Lech tour.
Grüner, 1.914 m
Easy tour, 2-3 hours, 450 m altitude
The Grüner, a border mountain to Germany, offers a magnificent view into the Rappental and Warth. Comfortable tour for beginners who try the first steps uphill.
Geishorn, 2.366 m
Hard tour, 4-5 hours, 800 m altitude
Beautiful ski mountain with steep south-west flank just before the summit. View from Rätikon to Silvretta.
Gehrnerberg, 1.935 m
Easy tour, 4 hours, 450 m altitude
Easy tour over slopes and ridges.
Höferkamm, 2.000 m
Easy tour, 2-3 hours, 350 m altitude
The short but really nice tour to the Höferkamm offers you a magnificent view of Warth-Schröcken and its mountain scenery. 
Widdersteinhütte, 2.009 m
Easy tour, 2 hours, 350 m altitude
Nice tour over wider slopes. A panoramic view of the Lechquellen region, Verwall and the Lechtal Alps.
Großer Widderstein, 2.533 m
Hard tour, 4-5 Stunden 900 Höhenmeter
Tour for experts with a climbing part just before the summit. This tour is only possible in very safe snow conditions. 
Have you already booked your winter vacation for your ski tours at Arlberg mountains?