Dear Guests,
the new restrictions of the Austrian government against the COVID-19-virus will force another closing of the entire hotel industry for the month of november. 

We as hosts with heart and passion take it our top priority to ensure the safety and health of our family, our guests and staff. 


We therefore have to close our hotel Tuesday, 3. November 2020 until further notice.

With a heavy heart but overlooking and hoping for a successful winter season. 

We are looking forward to welcoming you at Wellnesshotel Warther Hof again soon and wish you all the best, health and strength through these challenging times. 

We can do it together!

If you have any further questions, please do not hesitate to contact us: +43 5583 3504 | hotel@wartherhof.at
Safety Concept
#VacationofSenses

Safe vacations with a little distance!
We can do it together!

3 000m2 SPA and sauna world offer enough space for a little break from your daily life. No matter if spacious relaxation rooms, sauna world or water world - our expanded SPA for sure has enough room for privacy. Free space for culinary pleasures means extended times in the restaurants. Even breakfast is a combination of buffet and table service for even more quality.

It is time to pause and respire.

What is left is our sense of regionality. The appreciation of mother nature. The lived hospitality of our family business. And the vitalizing power of our Alps.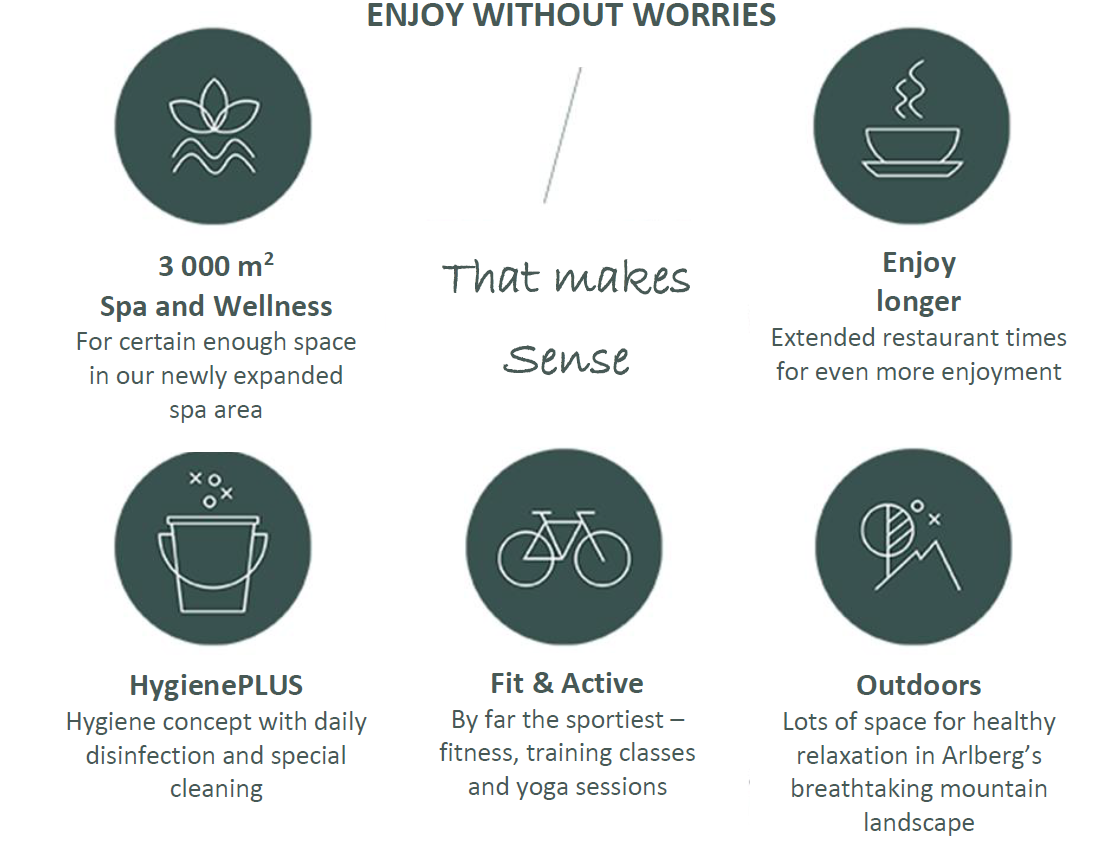 For any further questions feel free to contact our reception team directly at +43 5583 3504 or send us an email at hotel@wartherhof.at
Winter season 2020/21
Recommendation for our guests 

The "Stopp Corona" App - the digital handshake allows better contact tracing in case of positive COVID cases
Travel cancellation insurance - the European Travel Insurance covers in all COVID-19-cancellation cases
How to behave in case of sudden COVID-symptoms - please stay in your hotel room/apartment and contact your host as well as the Austrian health department under 1450
Where to wear the face mask

In all public places of the hotel for guests as well as staff
In the entire gastronomy when entering and leaving - except for when sitting on your assigned table. Drinks and food are only allowed to be served and consumed at your seat.
In all public transportations (busses, cab) as well as cable cars, chairlifts and tow lift. Other possibilities for your face masks are scarfs, multifunctional cloths, buffs, bandanas, ski masks etc. Mouth and nose must be covered at all time.
In stores (supermarkets, sports shops), banks and authorities
In healthcare sector (doctor's appointment, hospital) and in pharmacies as well as services where you can't keep the miimum distance (e.g. hairdresser)
In sports and recreational facilities if in closed rooms
Entry area of all cable cars
Ski ticket points of sale, tourism office, ski school office
When using public restrooms
Please always keep enough distance to other people! The minimum distance of 1m has to be kept in cable cars and ski busses as well, if possible. 
After skiing - Après-Ski
We deliberately abstain from big parties and Après-Ski. Enjoy pure skiing in our winterwonderland and be delighted by our wonderful mountain panorama. After skiing you can fortify yourself in our hotel and round off the day by relaxing in our sauna world. 
Always remember
Take a look at the installed information pillars and signs
Follow the staff's instructions
Keep enough distance to other people
Adhere to hygiene rules and wash your hands on a regular basis
Dispose used face masks and tissues properly in garbage cans
Pay cashless if possible
We can do it together!
Obligatory face mask in the hotel
Starting Monday, 14.09.2020, 0:00h wearing a face mask covering mouth and nose is obligatory in all public places for guests as well as staff. This means for you:
You have to wear a face mask when checking in and checking out, as well as when leaving and entering the hotel
In hallways and floors as soon as you leave your hotel room
On your way to and in the restaurant area and the buffet room
As soon as your sitting on your assigned table, you may take off the mask
On your way to the spa areas face masks are obligatory, as well as at the spa reception and the surrounding spaces
No face masks in our swimming pool area at the "Wellness house" and in our entire new sauna world, since these places count as humidors. We kindly ask you to keep a safe distance of 1m to ensure the other guests' safety.
Conduct recommendations
Minimum distance of 1m in all public places of Warther Hof
Wash and desinfect your hands multiple times a day
Sneeze and cough into your elbow
Elevators are allowed only for single person use or people from the same household
We ask to avoid shaking hands
Please use the toilet in your rooms preferably 
Arrival and Departure
As usual you receive a refreshing towel with antibacterial effect on your arrival
The rooms are available at 16:00h
Check-Out is at 11:00h! We kindly ask you to adhere to these times in order to be able to clean the rooms thoroughly. You are more than welcome to make use of our spa and afternoon lunch 
Hygiene & Cleanliness
Desinfection stands in all public places
Daily cleaning and desinfection of all public places multiple times a day 
Regular airing of all rooms with fresh mountain air
Spa
All treatments are performed except for the foam massage
Therapists work with vizors
Relaxation rooms
Our generous relaxation rooms offer enough space to keep a safe distance
Your snuggle blankets are laid out ready for you in your rooms
Blankets are available in all spa areas as usual
Sauna and spa
Saunas and steam bath are open with limited number of people, please keep the minimum distance of 1m
Instead of infusions we prepared new RITUALS for you - let us surprise you 😊
Swimming pools are open with limited number of people, please keep the minimum distance here as well
Sports activities
Gym is open, please keep the minimum distance of 1m
As usual our activities take place in the gymnastics room 
Hiking bus - in all public transportations you are required to wear a face mask
Culinary
Please desinfect your hands at the available desinfection stands every time you make use of the buffet 
Breakfast: a combination of buffet and table service for even more quality
Lunch: Soup of the day and main courses are served to your table
Afternoon: Coffee and cake are available for you at the buffet 
Dinner menu takes place as usual
Non-alcoholic beverages as well as coffe and tea in our buffet and spa areas
Extended restaurant times for more enjoyment
Restaurant
6 restaurant rooms and terrace with guaranteed physical distance
Starting friday, 25.09.20 the restaurants' closing hour is at 22:00h
Childcare
Our kids club is open - childcare takes place in smaller groups and most of the time outdoors
The kids club is desinfected multiple times a day by our fully automatic room and surface desinfection tool
Warther Hof TEAM 
Voluntary COVID-19 PCR tests by the RK Vorarlberg on a weekly basis
Well prepared and schooled team
Hygiene training through the firm Hollu
Daily laser temperature check of all employees
Wearing face masks and vizors for your safety