Dear Guests,
... we are already feeling the excitement! 
Your safety is most important to us!
That's why we listed the "most important" travel regulations for Vorarlberg/Austria below!
 The 3 means of varification that your're not infected
Wear an FFP2 mask in the hotel, bus, shop`s ...
We're excited to see you again at Wellnesshotel Warther Hof!
COVID-Safety Measures for your Summer by Vorarlberg Tourism
By clicking here, you will allow external content to be loaded from YouTube. This will enable the eventual transmission of personally identifiable information to third parties. More information:
https://www.google.com/intl/en/privacy.html
Safety Concept
#VacationofSenses

Safe vacations with a little distance!
We can do it together!

3 000m2 SPA and sauna world offer enough space for a little break from your daily life. No matter if spacious relaxation rooms, sauna world or water world - our expanded SPA for sure has enough room for privacy. Free space for culinary pleasures means extended times in the restaurants. Even breakfast is a combination of buffet and table service for even more quality.

It is time to pause and respire.

What is left is our sense of regionality. The appreciation of mother nature. The lived hospitality of our family business. And the vitalizing power of our Alps.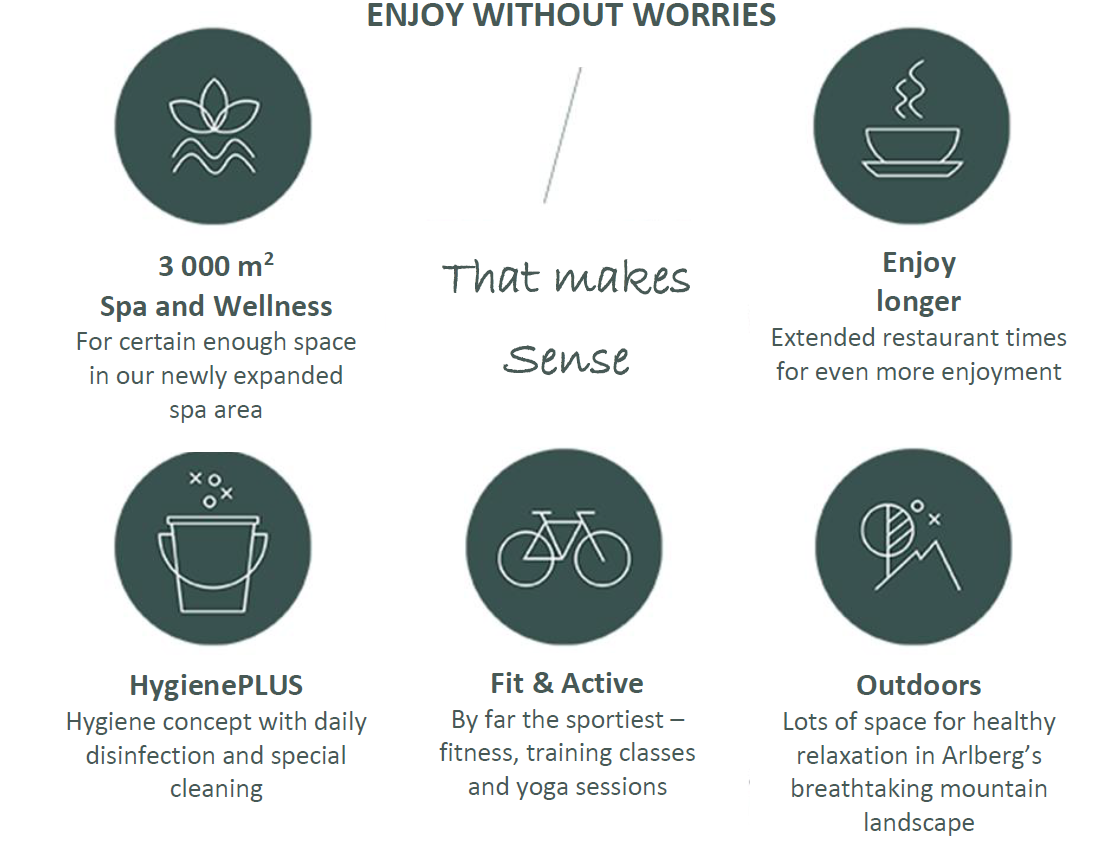 Face Mask Obligation
for your safety: we would love to see you wear a face mask in rooms with many people (e.g. breakfast buffet etc.) - of course not the spa areas 😊
Hygiene 

& Cleanliness
Desinfection stands in all public places
Daily cleaning and desinfection of all public places multiple times a day 
Regular airing of all rooms with fresh mountain air
Spa
All treatments are performed except for the foam massage
All therapists work with FFP2 face masks
Sauna and spa
Saunas and steam bath are open with limited number of people, please keep the minimum distance of 1m
Instead of infusions we prepared new RITUALS for you - let us surprise you 😊
Swimming pools are open with limited number of people, please keep the minimum distance here as well
Sports activities
Gym is open, please keep the minimum distance of 1m
As usual our activities take place in the gymnastics room 
Hiking bus - in all public transportations you are required to wear a FFP2 face mask
Culinary
Please desinfect your hands at the available desinfection stands every time you make use of the buffet 
All freely accessible cutlery or the like are desinfected and replaced regularly
Childcare
Our kids club is open - childcare takes place in smaller groups and most of the time outdoors
The kids club is desinfected multiple times a day by our fully automatic room and surface desinfection tool
Quarantine
Will I have to go into quarantine once entering/leaving Austria? Which forms are required?
Please keep in mind that the travel regulations depend on the country you're coming from and that they change regularly.
Therefore we unfortunately cannot offer you information here. Please look at your country's government's website.